The entrepreneur's entrepreneur,
Steve Jobs
has fascinated and mystified the tech business community for more than a decade steering
Apple
from near-bankruptcy to become the most valuable company in the world.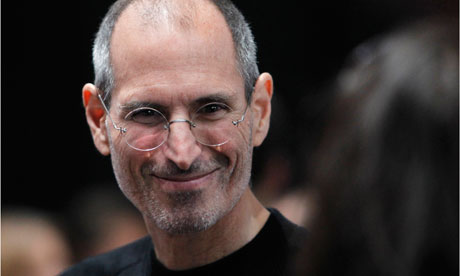 Under Jobs, Apple has become the exception to every business rule, expanding into markets that might have seemed outside Apple's core strengths – not least music, with the iPod and iTunes, and mobile phones, with the iPhone. Its expertise, though, was in understanding and creating consumer electronics in whatever form.
Co-founder Steve Wozniak,
speaking to Bloomberg
, last night defined Apple's success as being about the way products are developed as much as the products themselves. "Steve had been very disciplined and forthcoming in reasons for running things certain ways. At Apple great products are not the important thing – it's where those products come from and so much of that was down to the way of thinking of Steve Jobs," said Wozniak.
"The people around somebody who thinks in great ways like that and thinks ahead – they admire that and what to be like that … Apple is not going to change drastically or suddenly hit the tubes … I just hope that Steve is happy and feels that apple is in the best possible place for the future. His goal is not money. His personal goal is to be the implementer of technology that would improve people's lives – that's what he was born for, he told me once."
Steve Jobs Resignation Letter..
To the Apple Board of Directors and the Apple Community:
I have always said if there ever came a day when I could no longer meet my duties and expectations as Apple's CEO, I would be the first to let you know. Unfortunately, that day has come.
I hereby resign as CEO of Apple. I would like to serve, if the Board sees fit, as Chairman of the Board, director and Apple employee.
As far as my successor goes, I strongly recommend that we execute our succession plan and name Tim Cook as CEO of Apple.
I believe Apple's brightest and most innovative days are ahead of it. And I look forward to watching and contributing to its success in a new role.
I have made some of the best friends of my life at Apple, and I thank you all for the many years of being able to work alongside you.
New CEO of Apple-Tim Cook
Apple COO — no, excuse me, CEO — Tim Cook is a figure well known to the tech community, but one who has probably flown under the radar of most Apple fans.
Yet Cook has effectively been running Apple since Jobs stepped down in January, and stepped up to the big chair twice before as Jobs battled cancer. This is something Apple has clearly recognized — the company announced Cook's promotion almost immediately after Jobs put forth his right-hand man's name in his resignation letter.
Steve Jobs might be the face and heart of the culture at Apple, but Cook is the one who's been overseeing the company as it's climbed over the past year with the introduction of the iPad 2, the iCloud suite of services and its remarkable, if brief, reign as the
largest company on the stock market.
As the company's chief of operations, Cook is known to obsessive Apple watchers as a man with excellent business sense, credited with creating and streamlining the company's network of suppliers and manufacturers. Cook joined Apple in 1998, after stints at Compaq and IBM, with the mission to pull the company out of manufacturing.
A native of Alabama, Cook is known to be hard to fluster, driven and demanding. And although he has played down his chances at taking over as CEO in the past — a
2008 article from CNN
has him saying "I see Steve there with gray hair in his 70s, long after I'm retired." — he has been seen as Jobs's natural successor for years. Analysts have said that Apple will do fine in his continued care.
Although it's unlikely he'll match the innovative momentum of his predecessor, the culture that Jobs has created isn't going to leave with him — particularly since he's staying on as chairman. In his place, Jobs leaves not only Cook but a company supported by executives who've internalized Jobs's way of thinking, including design guru Jonathan Ive, marketing director Phil Schiller and iPhone software lead Scott Forstall.
Steve Jobs resigns as Apple CEO
Reviewed by
Admin
on
7:04 AM
Rating: